Which countries have been affected?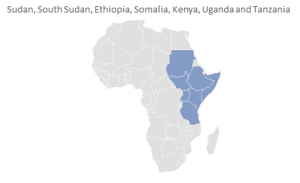 The worst humanitarian crises since World War 2?
Throughout these regions, it's been warned that as many as 25 million people are in crisis, facing starvation and malnutrition. (World Vision Australia)
In Ethiopia, Somalia, Uganda and Kenya there has been tireless drought (following the strongest El Nino on record) causing crops to fail, livestock to die and food and water supplies to diminish.
The world's newest county, South Sudan, has been experiencing famine since February 2017; famine has not been declared in any part of the world since 2001. (BBC April 2017)
The fierce conflicts in South Sudan have caused 3.3 million people to be displaced from their homes and are now in need for emergency supplies. South Sudan is facing the world's third largest refugee crisis after Syria and Afghanistan. (UNHCR 2017)
This is the largest hunger emergency in the world.
The United Nations warn 'as many as 1.4 million children could die of starvation in the coming months' from the East African Food Crisis.
AIM's Famine Relief and Crisis Response Fund
Africa Inland Mission has several long-term personnel involved in community outreach and development living in South Sudan; as well as, several Sudanese local partner churches. If you would like to give specifically towards the food crisis in South Sudan and other parts of Africa then you can through AIM's Famine Relief and Crisis Response Fund. The donations made to this fund will be sent to our missionaries and partners in country to distribute and provide hunger and crisis relief.
To donate now:
Visit: www.aimint.org/au/give
Follow the instructions to 'donate now'.
Under which fund select 'Project'
Under Choose a Project select 'Famine Relief and Crisis Fund'
Enter your personal and financial details and summit the form
For other forms of donating or for inquiries email: finance.au@aimint.org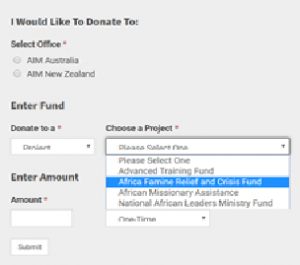 Thank You